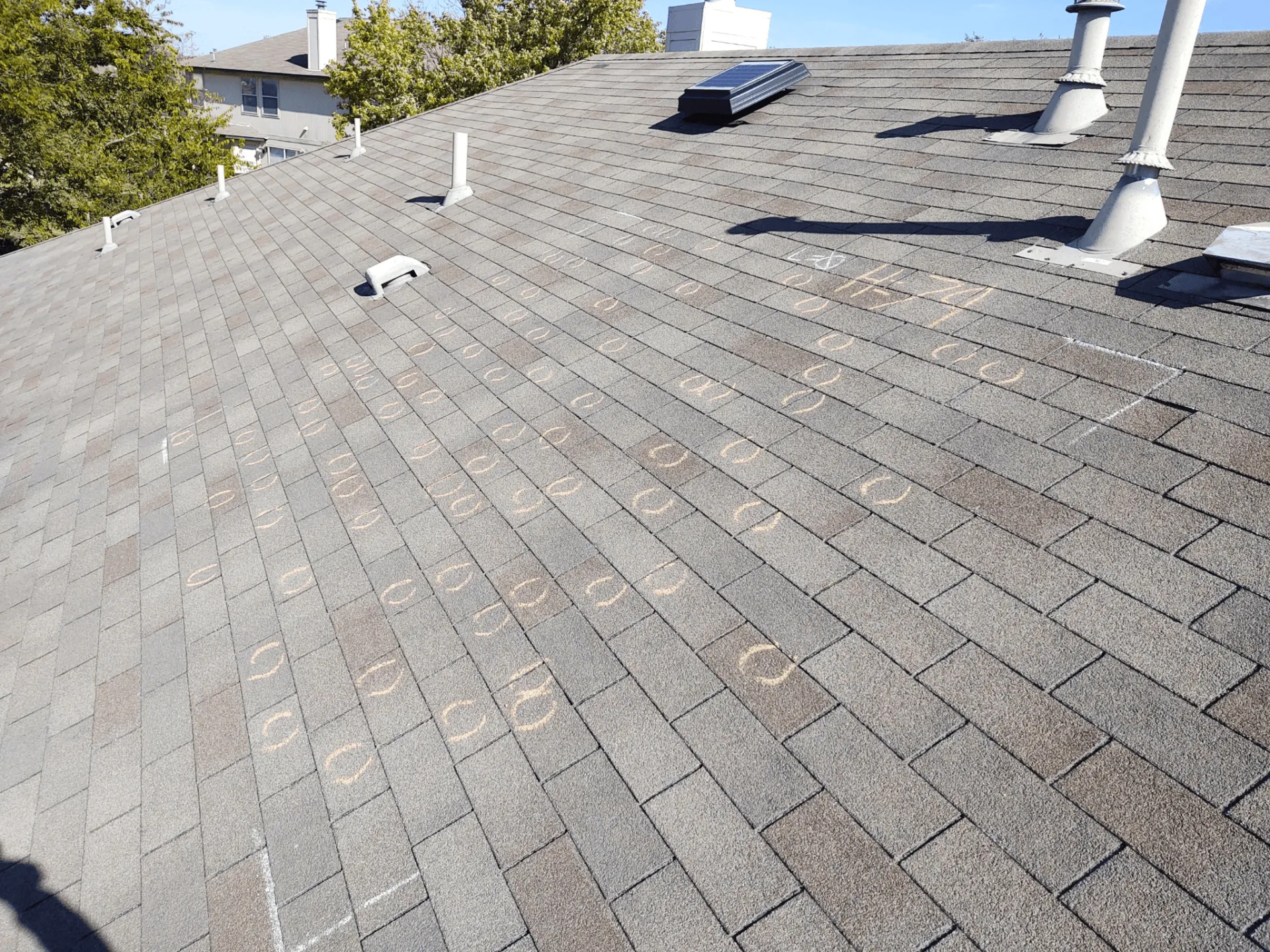 Insurance companies are out to make money. They used to be fair, but even the nicest ones are now giving homeowners a hard time and denying there is any damage on a roof that clearly needs repairs. Don't feel sorry for them; they make record profits.
True story – we inspected the roof above and found tons of hail dents. Hail dents ruin your shingles and will eventually cause leaks. If you have more than a few hail dents, your roof needs to be replaced and insurance companies know this. This homeowner also had pictures of golfball-sized hail and the storm made the news.
The insurance inspector told us not to circle the dents. He wanted to see the roof without our chalk circles. His inspection only lasted a few minutes, where he declared there was no damage. Our owner, Chris Anderson, ran up the ladder and circled 79 hail strikes in a 10×10-foot square. It took him less than five minutes. The inspector was furious. He claimed we must have made those dents ourselves. The homeowner had to call the insurance inspector's boss, ask for a different inspector, wait for weeks, etc. In the end, we were correct and the insurance paid to replace the entire roof.
This story is not rare. The lesson to learn is that insurance adjusters are not roofing experts. Get an expert opinion before filing your claim.
Roofing Services in Cedar Park, TX
No matter how big or small your roofing needs are, it's important to hire a professional roofing contractor to do the job. Whether you need hail damage repair or want to install a brand new roof, at Anderson Roofing & Construction LLC, we perform residential and commercial roofing repair and installation throughout Cedar Park and the surrounding areas. We encourage you to contact us to learn more about our extensive services or to make an appointment by calling (512)-200-7663. We would be delighted to answer any questions you have or provide a free estimate for superior roofing in Cedar Park, Texas, or the surrounding towns.