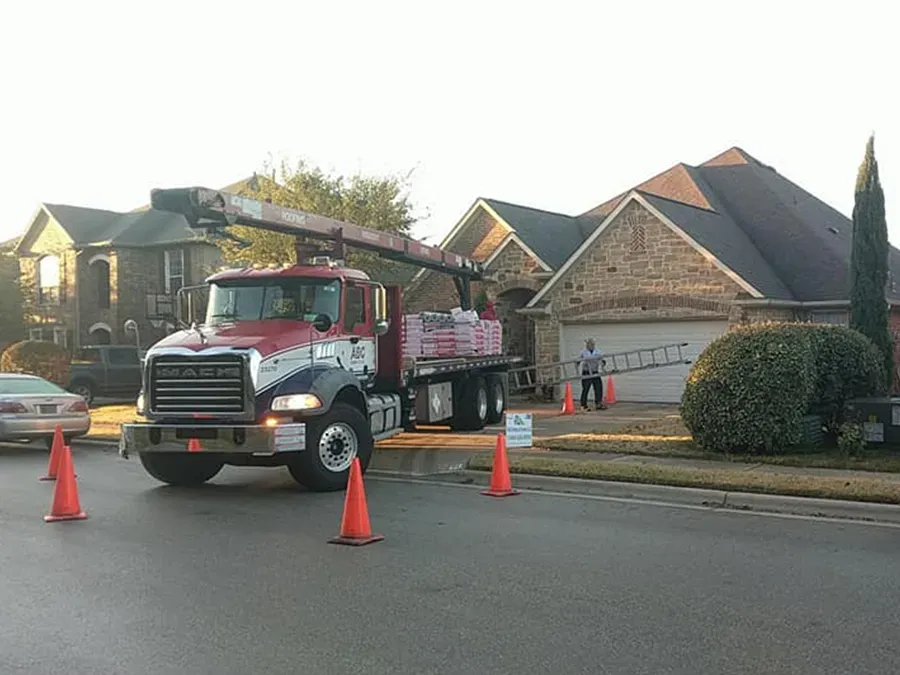 If you've had hail damage within the past year, this is a friendly reminder that most insurance companies only give you 365 days to get the repairs completed. Sometimes extensions are available, but not usually.
Why Should You Take Hail Damage Seriously?
Hail strips off the gravel that creates the protective skin of your shingles. The gravel protects the fiberglass matting from sun damage. When the gravel is gone, your shingles will degrade and eventually leak. To avoid costly roof leak repair, get hail damage inspected early.
How To Tell if You Have Hail Damage
If you suspect hail damage, start by inspecting your gutters. If high-impact hail has damaged your roof, you're likely to find dents on your gutters and downspouts. Gutters may also be clogged with granules from degraded shingles that were affected by hail. Make sure to also check your siding and deck for signs of hail impact. If you find any evidence, there's a high probability your roof needs a professional inspection too.
Roof Hail Damage: Five Things to Know
Here are some fundamental details regarding what hail damage might do to your roof that you should be aware of:
The size of the hailstone determines how much damage your roof will sustain.
Regular shingles can typically sustain damage from hailstones with a diameter of around 1 1/4 inches. However, even the smallest ones, the size of a nickel, might harm shingles that are thin or old. The likelihood that your roof has been damaged increases with the size of the hailstone.
Your roof is not the only thing at risk from hail damage.
If not repaired, hail damage to roofs has the potential to worsen existing issues. For instance, it could cause leaks and cracks that let water flow into your house and undermine the drywall, wall studs, beams, and ceilings. Your home's structural stability may be compromised if the hail damage to your roof is not repaired by a qualified roofing contractor.
Hail can damage all types of roofing materials.
Granules on asphalt roofs shield homes from ultraviolet rays. However, in a violent hailstorm, the site of the roofing granules that have been knocked away and dislodged by hailstones may appear to be a bruise-like dark stain. As a result, there may be issues with the shingles in the future. You might see broken or missing shingles, as well as damaged seams on roofs made of wood, metal, tile, or slate. A hailstone that is large enough has the potential to completely pierce a shingle.
Repairs for hail damage are frequently covered by insurance.
Homeowners who have suffered a property loss as a result of uncontrollable events are covered by homeowner's insurance. Most of the time, your insurance provider can assist with hail damage to your roof by paying for repairs. When you are certain that hail has damaged your roof or home, notify your insurance provider and submit a claim.
Damage from hail is challenging to identify.
Damage from hail isn't usually evident or simple to spot. Therefore, it is frequently insufficient to check your home yourself for potential issues. It's common for hail damage to your roof to go unnoticed, and issues may not become apparent for a few years. By the time you fully comprehend the depth of the hail damage to your roof, it might already be too late to file an insurance claim. However, a reliable company's thorough hail damage inspection will find any indications of hail damage repair, allowing you to move quickly to get the repairs you need.
About Us
Anderson Roofing & Construction LLC is family-owned and operated. Our craftsmanship comes with an industry-leading warranty for materials and labor! We take pride in the proper completion of every job we undertake. We follow the International Building Codes and all manufacturer's installation instructions. We don't cut corners. Our owner had 10 years of experience installing roofs prior to entering sales. He is a craftsman who knows all the small details that make a difference.
We pride ourselves on extreme customer service. We know a lot about building codes and how to explain the need for proper storm damage repair to your insurance company. We also take care of our crews – we only hire people who do excellent work and we pay them well. All of our current crew members have 10 years of experience.
Please don't hesitate to call, text, or email us if you have any questions. We offer our customers a $500 reward if you refer a new customer and they also have us replace their roof.
Roofing Services in Cedar Park, TX
No matter how big or small your roofing needs are, it's important to hire a professional roofing contractor to do the job. Whether you need hail damage repair or want to install a brand new roof, at Anderson Roofing & Construction LLC, we perform residential and commercial roofing repair and installation throughout Cedar Park and the surrounding areas. We encourage you to contact us to learn more about our extensive services or to make an appointment by calling (512)-200-7663. We would be delighted to answer any questions you have or provide a free estimate for superior roofing in Cedar Park, Texas, or the surrounding towns.