ANDERSON ROOFING & CONSTRUCTION
Quality Roof Replacement and Repairs in Cedar Park TX
Anderson Roofing & Construction Specializes In:
Residential Roofing, Commercial Roofing, HOA Roofing, Condo Roofing & Hotel Roofing in Cedar Park TX and the Surrounding Areas

Need A Roof Repair or Replacement In Cedar Park TX? We can help!
Anderson Roofing & Construction is a full service roofing contractor in Cedar Park TX that serves the greater Austin community. Our team of dedicated craftsmen are ready to assist with any residential roofing or commercial roofing project. From a full roof replacement on your home, to storm damage roof repair for your business, we do it all and we do it well. By combining years of hands-on experience with superior roofing products, you can rest assured that your roof replacement or restored roof will exceed your expectations in terms of looks and performance. Our nearby roofers use materials from Owens Corning, GAF and CertainTeed, ensuring your roofing system is of the greatest quality.
Our Professional Roofing Services Include:
Residential Roof Installations
Residential Roof Repairs
Residential Roof Maintenance
Residential Storm, Hail & Wind Damage Roof Repairs
Residential Roof Insurance Claims
HOA, Hotel & Condo Roof Replacements & Repairs
Commercial Roof Replacements
Commercial Storm, Hail & Wind Damage Roof Repairs
Commercial Roof Insurance Claims
24/7 Emergency Roofing
When you need us, we'll be there! 
Anderson Roofing & Construction Stands Above the Rest By Offering:
24/7 Emergency Roofing Service
Free Annual Roof Inspection
Lifetime Roofing Warranty
Licensed & Insured Roofing Contractors
Roofing Financing Availability
High Customer Satisfaction
Solve Your Roofing Needs. Call For Your Free Estimate Today.
Cedar Park Roofing Companies
Anderson Roofing and Construction is a full-service roofing company that provides quality repairs and replacements. The goal of our Cedar Park roofing companies is to deliver exceptional materials and workmanship that will hold up to Texas weather. You are going to pay the same deductible no matter what, so don't you want the best work money can buy?
To schedule your complete and accurate estimate, contact Anderson Roofing and Construction today. We will send a copy to your email, along with pictures, so that you can submit it to your insurance company.
Searching for Roofing Companies in Cedar Park TX? 
Get a Quality Replacement with Us!
Not all roofing companies are the same. Because the insurance claims process can be confusing, some companies use this to their advantage. This is why we educate customers first, and then let them make the decision that is best for their needs and budget.
When you choose us over other Cedar Park roofing companies, you can expect quality materials. We use only national name brands like Owens Corning, GAF and CertainTeed. These manufacturers provide solid warranties, and we have our own Lifetime Warranty as well that covers labors and materials.
Additional reasons to choose our roofing companies in Cedar Park TX are:
We accept insurance. We'll provide you with a full and accurate assessment of your roofing needs, which you can submit to insurance. We are also knowledgeable in the insurance claims process and can explain the steps you'll need to take.
We use the best materials. All materials come from reputable brands that homeowners know and trust. Not only are they durable and long lasting, but also they're beautiful and available in numerous color combinations.
We have experienced contractors. Our contractors have 10+ years of experience and deliver great work, always. They won't upsell you or try to get you to replace your roof when it doesn't need it. Honesty and transparency is what we stand by.
Schedule an Inspection and Find Out What Your Roof Needs!
The best way to know what's going on with your roof is by scheduling an inspection. Anderson Roofing and Construction will let you know what your roof needs and how much the project will cost. You'll be responsible for paying your deductible and submitting your claim to insurance, but we will handle the rest! Contact our Cedar Park roofing companies today!
Call Today For Your No Obligation, Free Roofing Estimate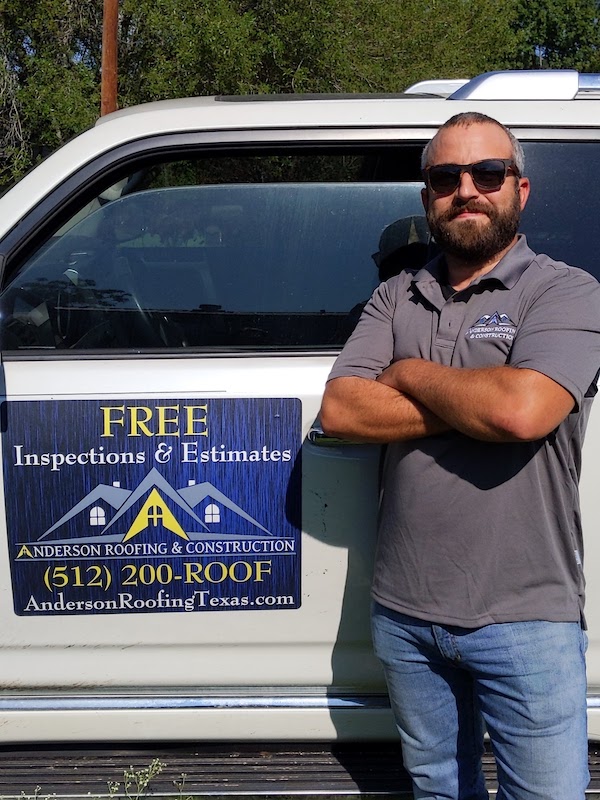 Many people avoid calling a roofer because they think they will not be able to afford the solution. This just makes your roof problems worse. We at Anderson Roofing & Construction can help you keep your roof repair or roof installation affordable by starting with a free estimate. We start by giving you a FREE ESTIMATE that will detail all of the problems you are experiencing  Documenting all the issues properly will help you submit a verified roof claim with your insurance to help you cover the cost of your roof repair in Cedar Park. 
Give us a call to learn more about our extensive services or to schedule a no obligation, onsite roof inspection. 
As a licensed and insured local roofing company, the entire team at Anderson Roofing & Construction takes pride in being able to assist our friends and neighbors in Cedar Park, Austin, Round Rock and the surrounding areas with their residential and commercial roofing needs. By providing free estimates and annual roofing inspections, we aim to make your roofing experience as stress free and affordable as possible. 
Whether you need roofing for your own home, 24/7 emergency roofing in Cedar Park TX, or are a property manager seeking HOA roofing, condo roofing, or hotel roofing, our crew is ready to assist with roof repairs, roof replacement and roofing installation services. 
To get started, give Anderson Roofing & Construction a call at (512) 200-7663. A member of our Cedar Park roofing team will gladly schedule an appointment for us to visit your property so we can complete a detailed analysis of your needs and provide an accurate written roof services estimate at no cost to you.
Don't Take Our Word For It.
Check Out What Our Satisfied Customers Have To Say.

How We Can Help You Solve Your Roofing Needs?